Foundry Production
CRIS CASTINGS started in 1994 as the casting department of CRIS Hermetic Pumps being specialized in the casting processes of
the housings, bodies, and helix wheels for a large variety of pumps.
Our team has extensive experience in the investment and no-bake casting industry - experience that serves our customers through high quality parts, produced on time in a cost effective manner
At CRIS CASTINGS, we have developed the technologies and equipment required to produce high quality castings in a large variety of ferrous and nonferrous alloys:
Stainless Steels
Carbon Steels
Cast Iron
Aluminum alloys
Copper alloys

The lost wax (investment) casting Investment Casting with CRIS Castings provides the best final surface, close tolerances of any complexity parts within 0.1 to 100 kg, including complicated internal configurations, granting savings of production costs at the further processing.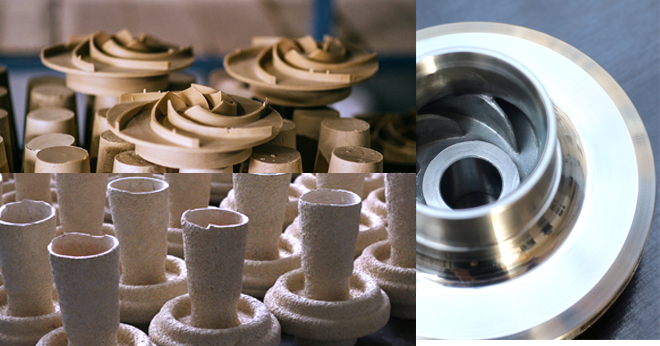 Casting in cold-mixes forms (No-bake Casting) The technique we have developed at CRIS Castings is characterized by quality casted parts within 5 to 500 kg, with a clean and smooth surface, high dimensional accuracy and zero defects, which allows you to assign minimal allowances for machining
For material smelting we use a dual power inverter furnace unit in the same cabinet, which allows us to simultaneously keep a continuous hot metal flow, keeping the pouring temperature constant in one of the furnaces while melting at maximum power in the other.
This has a significant cost saving effect, as it also gives the opportunity for saving the return time and consequently, increasing pouring capacity.
By choosing cris castings, you'll benefit from:
Highly detailed castings
Reduced casting material and labor costs
Better casting tolerances and surface finish
Capability to use difficult internal
configurations
Reduced machining operations
Use of a large variety of materials;
 To learn more about how 'CRIS Castings' foundry production can help you in your casting project, please contact us.